The course research guide focuses on some specific resources in the University Library and on the World Wide Web useful for legal research. Should you have questions, stop by the Reference Desk on the first floor. You may also call the Reference Desk at (334) 229-4110 during the hours the Library is open.
Start with these sources to help you understand the various aspects of legal research.

Legal Research and Writing
Main Reference: KF 240 .S6 1996
Index to Legal Citations and Abbreviations
Main Reference Desk: KF 400 .R35 1993
Law Dictionaries & Encyclopedias

Check the dictionaries for definitions of legal terms.

The encyclopedias provide brief discussions of legal topics and cite relevant cases.

Black's Law Dictionary
Main Reference Desk: KF 156 .B53 1999
Legal Thesaurus
Main Reference Desk: KF 156 .B856
American Jurisprudence 2d (Am. Jur. 2d)
WestLaw Campus (ASU)
Corpus Juris Secundum (CJS)
Main Reference: KF 382 .C65
Before searching for United States cases, it's a good idea to understand the federal court system. These three Web sites provide information on the different federal courts.

US Cases

WestLaw Campus (ASU)
Supreme Court Opinions
Supreme Court Slip Opinions 2000-Present
Supreme Court Collections
Supreme Court Decisions 1990-present
Supreme Court Reporter
Main Reference: KF 101 .S94
United States Supreme Court Reports
Main Reference: KF 127 .U5 2nd series
Federal Reporter (Circuit Courts of Appeal)
Main Reference: KF 127 .F48
Main Reference: KF 127 .F48 2d Ser.
Federal Supplement (District Courts)
Main Reference: KF 105 .F45 2d Ser.
Main Reference: KF 105 .F45 3d Ser.

State Cases

WestLaw Campus (ASU)
Alabama Reports
Main Reference: KFA 45 A19
Alabama Reporter
Main Reference: KFA 47 A32
Alabama Appellate Court Reports
Main Reference: KFA 48 .A24
| | |
| --- | --- |
| Much of the scholarly legal literature is published in law reviews (journals). Searching the Library's online databases is the most efficient way to find articles in these publications. Our databases are easily accessible off campus by clicking on the database name and typing in the information requested. If you need additional assistance with accessing the databases, contact Cedric Davis at (334) 229-6998. | |
You can use either the MLA Handbook for Writers of Research Papers or the Chicago Manual of Style to cite your sources. Copies of these are available at the Main Reference Desk.
Please take a few minutes to let us know what you think about this guide. Has it helped with your research? Do you have any suggestions for improving the guide? You may e-mail Barbara Hightower at bhightower@alasu.edu or call (334) 229-6839 with your comments and suggestions.
Course Research Guides | Information Literacy Program
University Library & Learning Resources Center | Alabama State University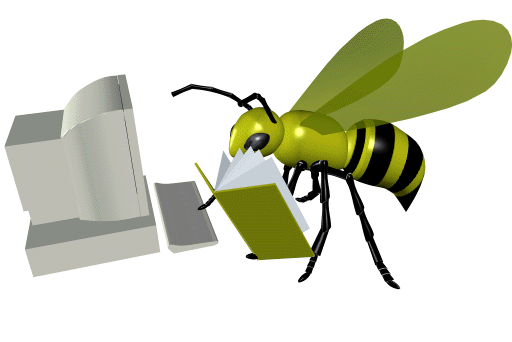 Alabama State University
University Library & Learning Resources Center
Authored by: Barbara Hightower, Information Literacy Librarian
All contents copyright © 2003-2004, ASU. All rights reserved.
May 17, 2004
/library/dept/infolit/courseguides/cmm402ellington.htm